It's been over a month since I posted anything and since then so much has been going on in the world. Last week was particularly heavy, but necessary, with the protests and conversations that George Floyd's death sparked. I took some time away from posting and sponged up as much of the information as I could. I think the most interesting thing I watched was 13th on Netflix. I highly recommend it.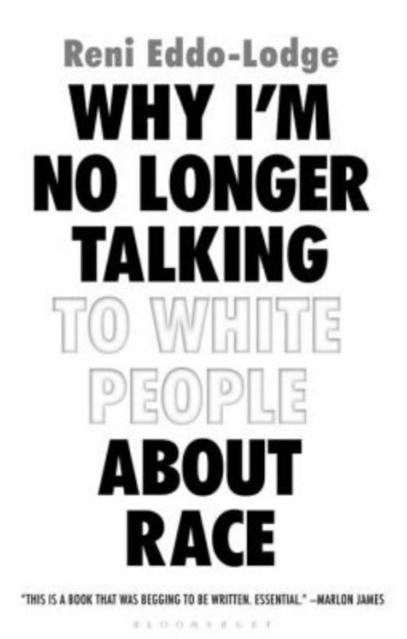 I also ordered Why I'm No Longer Talking To White People About Race by Reni Eddo-Lodge. It's been on my To-Read list on Goodreads for months and unfortunately just never got requested at the library before everything shut down. I ordered that from my local book store. If you are looking to read more books by diverse authors, make sure you request them through your local book store. How else will they know to stock books by authors outside the Bestseller list unless we request them? I also ordered Untamed by Glennon Doyle, a memoir about a female writer who comes out as gay later in life because, if you can believe it, June is also Gay Pride Month. Ironically, I think that may actually be on the bestsellers list but I've heard really good things about it. If you haven't already, make sure to check out my Instagram, trees_and_honeybees. I started to go through all my books on my bookshelf when Coronavirus hit and have been doing small quick reviews of them. I would love to hear what else I should be reading right now so please leave recommendations.
I'm trying to balance the influx of information with some non-screen time as well to give myself time to process what I'm seeing. I've always found the routine of meal prepping to be comforting so it's appropriate that I'm break my internet silence with this post. I have a post on toilet paper scheduled but I figured that one could wait a little longer!
Here is my grocery haul this week. You will notice a lot of plastic. I debated posting this to my low-waste blog but that is the reality we are in right now. I am still supporting my small co-op, which is closed to shoppers. I send them my list and they shop for me. That means what I would normally put in a reusable produce bag (like the nectarines and plums) are getting put in plastic. Or items that I think are going to be in bulk (like green beans and spinach) actually come pre-packaged because of availability. BUT, I'm getting my dry goods like quinoa, peanuts and cacao nibs in bulk. I think it's a trade off. I'm getting more plastic bags now but I'm voting with my money to keep my local co-op open. By continuing to shop there, despite it not being perfect, I'm saying that this is a store that is important to me and when everything opens again, I want to make sure it opens as well. I want the bulk bins and natural beauty products and organic produce to be there so for a short amount of time, I will take a few plastic bags. I don't know if that is the right things to do for environmentalism but it feels right to me. Ok, now onto the food!!
Warmer weather means I'm on a huge smoothie kick again. I've been using Jessica Eat Real Food's Go-To Smoothie trick (it's saved on her IG as "Go-To Smoothie" story). She bulks up smoothies by adding flaxseeds, vegetables and fats. I've been applying that to fruit-based smoothies I already make. This week, I'm doing a chocolate cherry smoothie. Here's roughly my recipe:
1/2 banana
1/2 c frozen cherries
3 or 4 hand fulls of baby spinach
1/2 – 1 cup riced cauliflower (if you are ricing cauliflower yourself to reduce waste, make sure you get the white cauliflower. The yellow and purple have a much stronger flavor and you'll be able to taste it in your smoothie. Jessica also adds zucchini and broccoli stems to her smoothie. Check out her story for tips on these)
2 tbsp nut butter (I'm using homemade vanilla cinnamon almond butter)
1 tbsp ground flaxseed (Jessica's recipe called for 2 but I'm working up to that)
1 scoop of protein powder (I'm using Tone It Up Chocolate protein. They are vegan and gf. I actually don't love this TIU flavor. The vanilla and coffee flavors are much better. As always, if you have a low-waste vegan protein powder you like, please leave suggestions below)
1/2 cup unsweetened almond milk
1/2 cup water
1-2 TBSP cacao nibs (optional)
ice (optional)
I freeze the first 4 ingredients together (pictured in a Grove Collaborative reusable sandwich bag) and then also portion out the ground flax seed and protein powder together (pictured in a Stasher snack pag). You don't need to portion out your flaxseed and protein powder but it saves me time in the morning, which I always appreciate. The ice and cacao nibs are optional but I like to have something to chew. I pulse the cacao nibs in at the end.
This smoothie is SO filling. I can eat it at 9 and then not be ready for lunch until 1:30/2. It's really helping to cut down on my snacking while I'm home.
Warm weather also means more salads. This summer stone fruit salad has baby arugala, nectarines, plums, pecans and baked tofu. I marinated the tofu briefly in a balsamic vinaigrette (also the dressing on the side) and coated it in cornstarch and panko crumbs but I don't love how it came out so I'm still working on that. I think a simple grilled tofu would actually taste better with the summer fruit. I'll add avocado when I'm ready to eat it.
I'm not a big fan of crackers but these are amazing! This may be my new favorite way to use sourdough discard. I didn't have any Herbs de Provence so I subbed in everything but the bagel seasoning. This seasoning already had salt so I skipped 1/4 tsp of salt to sprinkle on the top. I've been snacking on these constantly and have even put them on salads as croutons.
Dinner is my go-to Buddha Bowl, which I've posted before. I make it with farro and roast the edamame. This comes together pretty easily and is really filling. As a trick, I roast the edamame and sweet potatoes side by side on the same baking sheet to save time (and dishes to clean) and cook the farro while those are in the oven.
I'm not going to share my dessert this week because I accidentally added 1 tsp of salt instead of 1/4 tsp salt and despite trying to remove some of the salt, they came out a bit rough. I'm sure they would be delicious if less salty but I'll hold off sharing the recipe until I can confirm.
What summer recipes are you making right now?